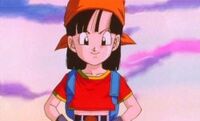 Pan is the daughter of Gohan and Videl.
Apperance
Edit
Pan usually wears an orange bandana, a red belly bearing shirt, and gray jeans with a chain coming from the left side and a hole in the back for her tail. Sometimes, she doesn't wear the bandana.
Super Sayian
Edit
When Pan goes Super Sayian, her bandana disappears and her tail dissapears.
Abilities
Edit
Masenko
Kamehameha
Finish Buster
Final Blast
Super Sayian
Ad blocker interference detected!
Wikia is a free-to-use site that makes money from advertising. We have a modified experience for viewers using ad blockers

Wikia is not accessible if you've made further modifications. Remove the custom ad blocker rule(s) and the page will load as expected.